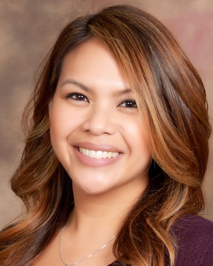 Arlene Bagain Rivera, MS
Licensed Professional Clinical Counselor
LPCC #2587
Arlene Bagain earned her Master of Science Degree in Rehabilitation Counseling and Bachelor of Arts Degree in Psychology from San Francisco State University. In 2017, she received Foundational Training in Dialectical Behavior Therapy treatment from Marhsa Linehan's Institute, Behavioral Tech, LLC. in Seattle, WA.
Arlene worked in a variety of therapeutic settings since 2008 and gained her experience in both community-based residential and outpatient counseling agencies, including Walden House's Project Sister Kin Program for at-risk youth in San Francisco, CA and Women's Recovery Association for women presenting with dual diagnoses in Burlingame, CA. She obtained a majority of her training and post-graduate hours through her internship and employment with Pyramid Alternatives, Inc. (now known as StarVista), a non-profit organization serving the northern region of San Mateo County, CA. Arlene worked with adult individuals presenting with a variety of mood and behavioral issues, such recovering from substance dependence, depression, anxiety, bipolar disorder, grief and loss, trauma, low self-esteem, low impulse control, and developmental and physical disabilities. Early in her career, Arlene earned the position of Recovery Services Division Assistant Manager at Pyramid Alternatives, Inc., successfully overseeing the agency's largest clinical program for court-mandated clients and managing a team of clinicians for over 4 years while simultaneously providing individual threapy and both process and psychoeducation group services in Daly City, San Bruno, and Half Moon Bay.
Arlene currently has a private practice in Redwood City, CA. She heads the Comprehensive Adult DBT Program and specializes in working with persons who present with Borderline Personality Disorder, Major Depressive Disorder, Bipolar Disorder, Anxiety Disorders, PTSD, complex trauma, and persons struggling with emotion regulation who are motivated, ready, and willing to work hard to make signficant changes in their lives.
Arlene operates from a client-centered and strength-based approach, firmly believing that all individuals possess the abilities needed to achieve their goals and build a life that is meaningful and worth living to them. Arlene's warm, compassionate, nurturing, and energetic style fosters a safe and comfortable environment where individuals can recover, heal, and grow.
From advanced DBT training and witnessing the effectiveness of DBT skills and its practice in daily life, Arlene is dedicated to teaching her clients DBT skills so they may obtain the best quality of life possible.
When Arlene is not working, she enjoys spending time and relaxing with her loved ones, especially her German Shepherd fur baby, and traveling to destinations with warm weather overlooking the ocean or lake. She's also an avid powerlifter.